GreenPortfolio is providing users with a platform to review financial products with a focus on climate-friendly products that meet the following criteria:
- generally available to anyone in the United States
- have a low dollar entry requirement
- invest the vast majority of its funds in renewable energy production or development.
Upon discovering that most users were accessing the site from their mobile devices, GreenPortfolio approached me to get assistance with improving the user experience for mobile users.
To address their concerns, I would approach this project with a mobile-first approach and provide them with a high-fidelity prototype with recommended updates based on research and user testing.
Role
UX designer, UX researcher, and visual designer. I worked directly with the founders of the company.
Adobe Xd, Adobe Illustrator, Useberry
Market research was conducted and provided by the NYU Stern Consulting Project.
Here are a few key take-aways from their research:
  • Willing to Switch – Users have interest in finding green financial products but have various pain points associated with doing so.
  • Awareness - Users do not have enough insight into what is involved as far as what is available and what the costs of switching might be
  • Getting the word out - There are clear paths for increasing awareness through advertising, education, and expanding the product.
  • Where to start - There is a need to discover the expectations and needs of GreenPortfolio users to provide them with a product that will delight.
Research sought to discover insights and trends related to investment information resources and tools.
​​​​​​​
"Among all the activities that the respondents think would reduce carbon footprint, Renewable Energy Investment was seen as the most impactful."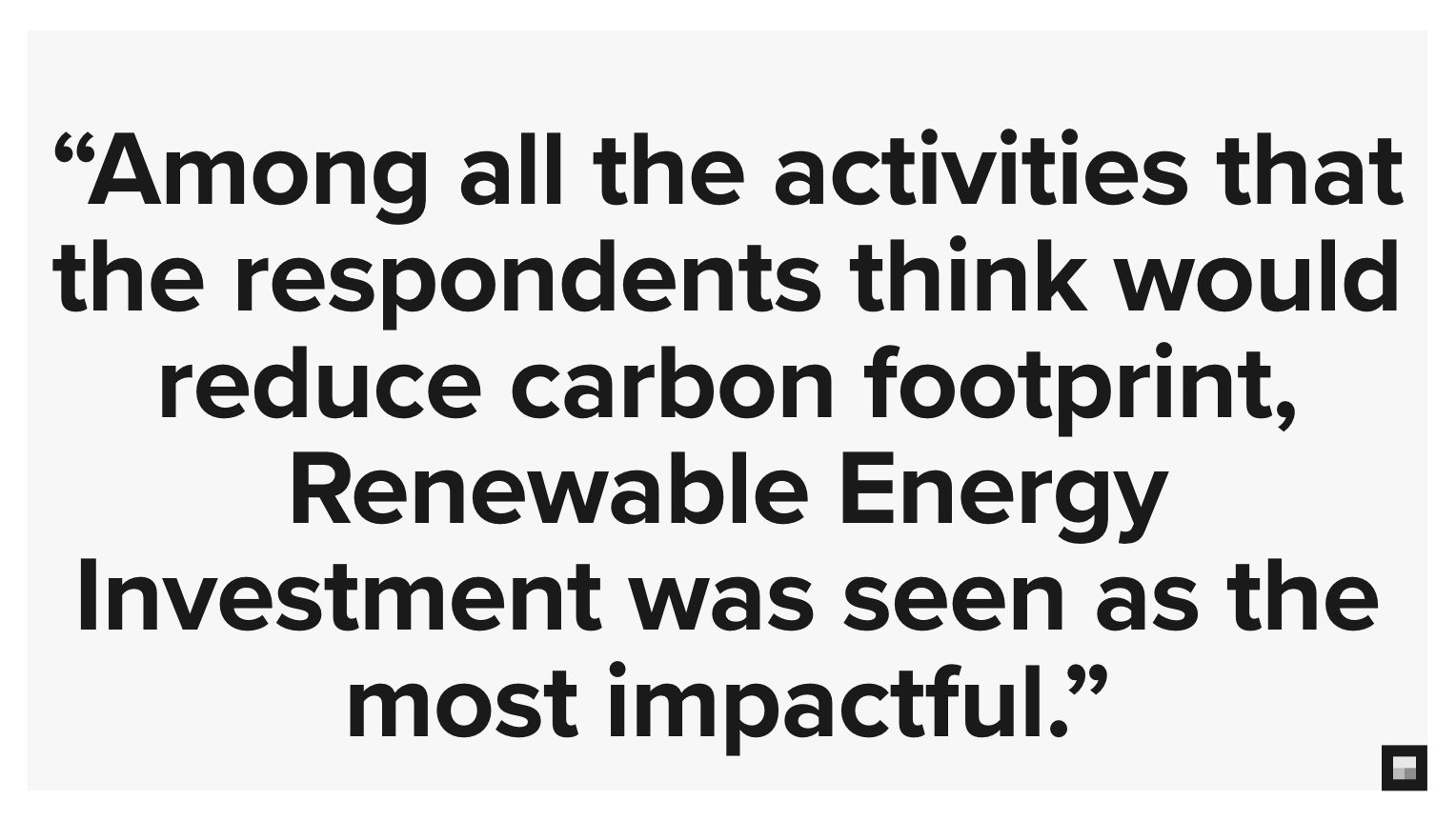 Direct & Indirect Competitors
My competitive analysis identified the leading competitors. First, direct competitor, nerdwallet, and indirect competitor, the balance. I focused on mobile sites that offered financial product and service reviews.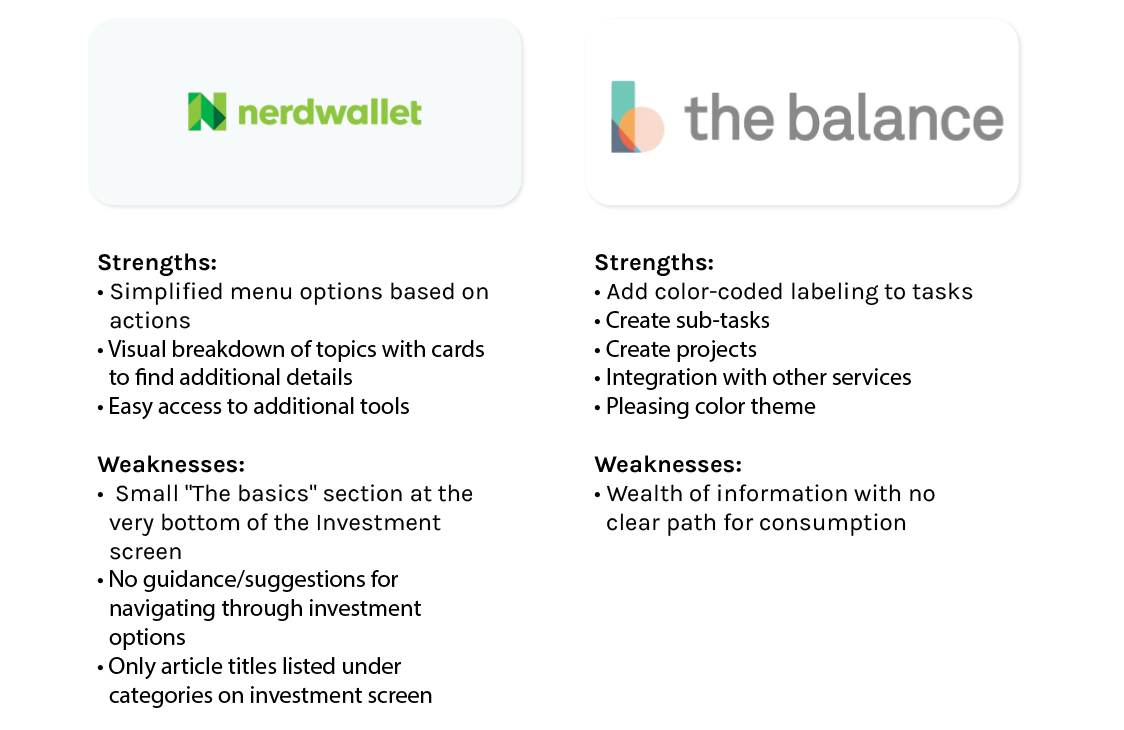 I started with user testing conducted on the current GreenPortfolio site, and had users access the mobile version to gather insights on any pain points they were currently experiencing, as well as gather insight into their initial instincts with interacting with the site.
I used these insights to corroborate the details provided by the NYU Stern Consulting Project and created a list of action items for the first prototype.
​​​​​​​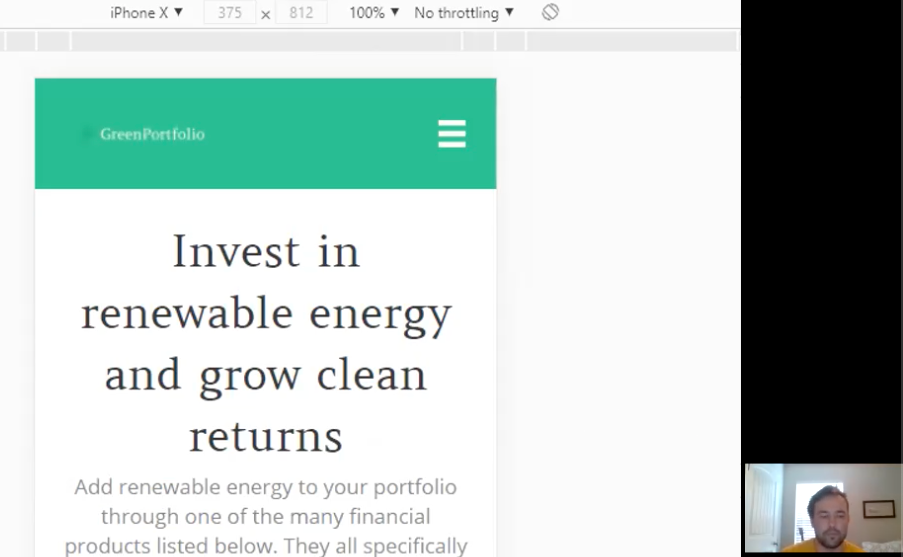 To further synthesize the insights and observations from the user testing, I created an affinity map by taking the documented observations from the user testing and categorizing them to identify needs.
I was able to identify several areas of focus that would guide me moving forward, they focused on credibility, information about the broader impact, general education about green energy, and finding in-depth information about available financial products and services quickly and easily.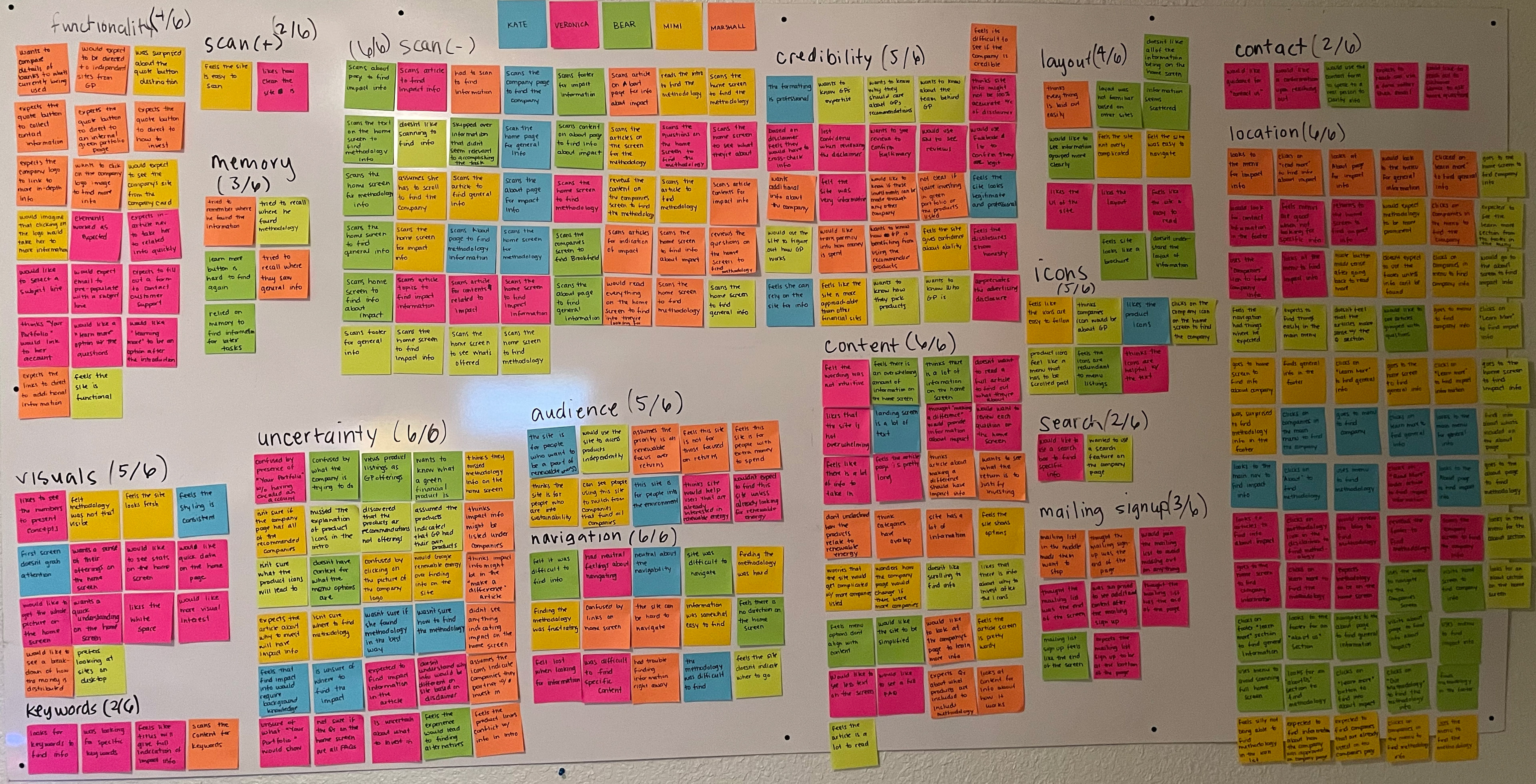 Green Portfolio had already established user personas that we wanted to keep in mind as we designed and developed solutions.
​​​​​​​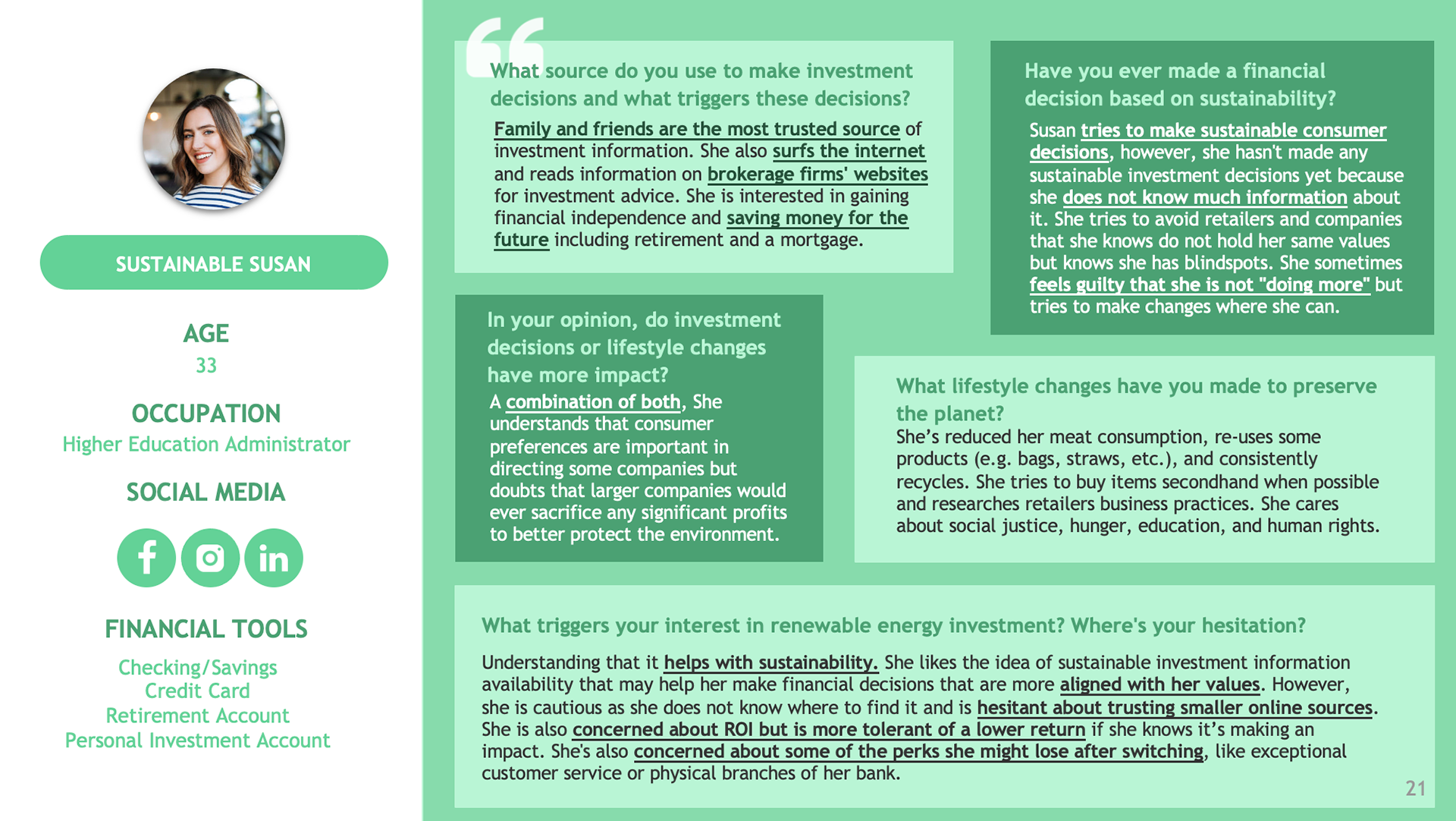 As I kicked off user testing on the current GreenPortfolio site, I wanted to ensure that I would gather insights that could be converted into effective changes. I set out with a few key objectives in mind:
• Observe participants navigating the site
• Observe participants finding the methodology information
• Observe participants gaining insight into the impact of using products that invest in renewable energy
• Observe participants finding general information about renewable energy on the site
• Observe participants finding additional details about specific companies
• Identify slips and mistakes experienced by participants
At this point I also wanted to address concerns about the usability heuristics and completed an evaluation. I identified that future updates to the site should focus on three key areas:
• Consistency & Standards
• Aesthetic & Minimalist Design
I started with mid-fidelity wireframes based on the existing layout of the site to ensure that core functionality would be retained and that design recommendations would not expand beyond the capability of the page builder being used. I then began making updates based on user testing insights and including all elements for the next round of user testing. I referenced the list of identified pages to design, and focused on elements necessary for testing of the prototype.
I took my mid-fidelity wireframes and wired them for testing. The decisions was made to test with this version of the prototype to allow interaction early on, before design decisions were made and would allow for quick edits.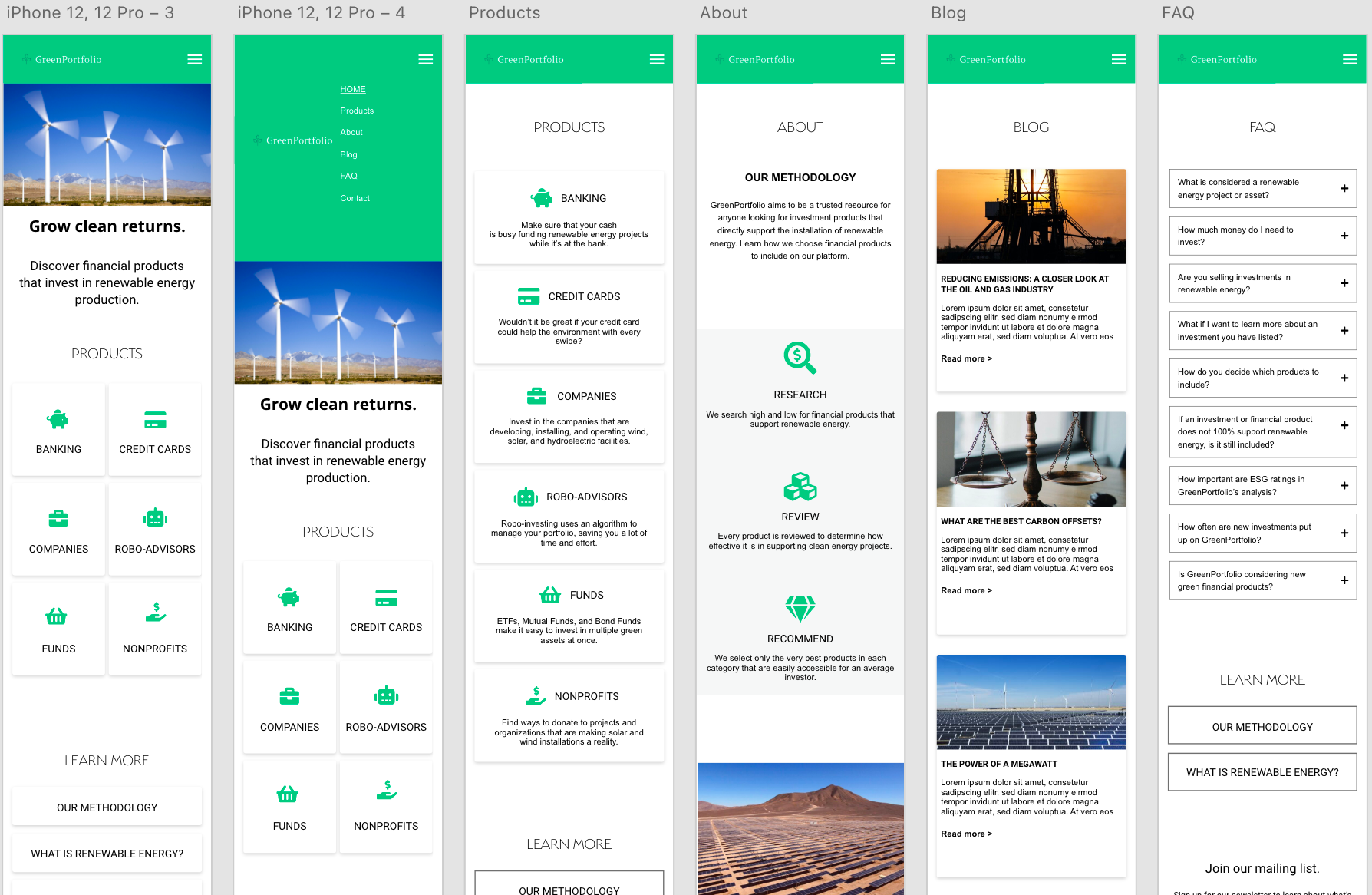 I conducted unmoderated remote user testing using Useberry. The testing allowed me to collect observations related to the usability of the GreenPortfolio prototype. Each session was recorded so I was able to review the results and compile them into categories using an affinity map. Those categories were then turned into insights and recommendations.
Part of this project included incorporating the new GreenPortfolio logo. I was supplied with the logo, fonts, and primary and accent colors which I would incorporate into the full UI Kit.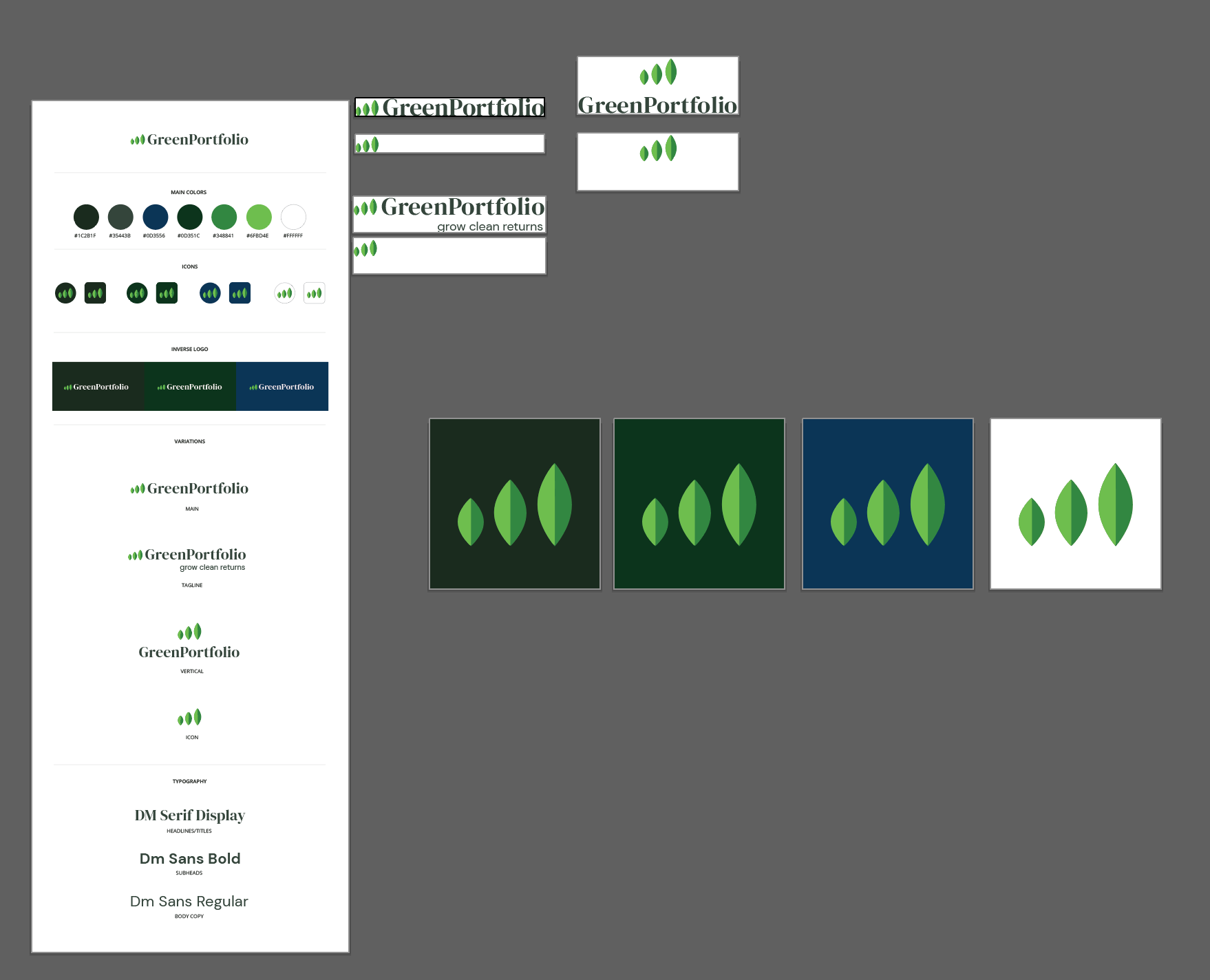 For my final prototype, I implemented the following changes that were identified during testing:
I updated the menu to include a drop-down for all products to provide easy access.

​​​​​​​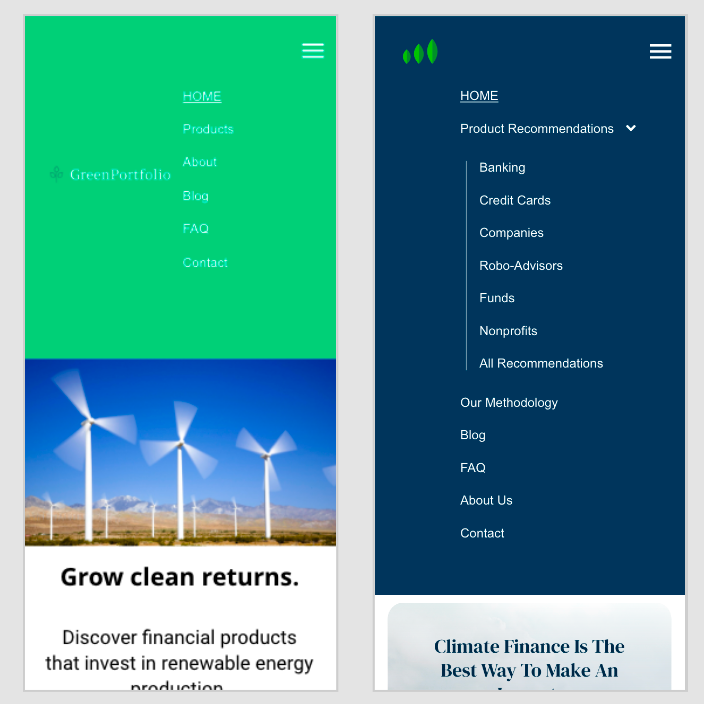 I addressed concerns around clarity of titles and descriptions for products on the home screen.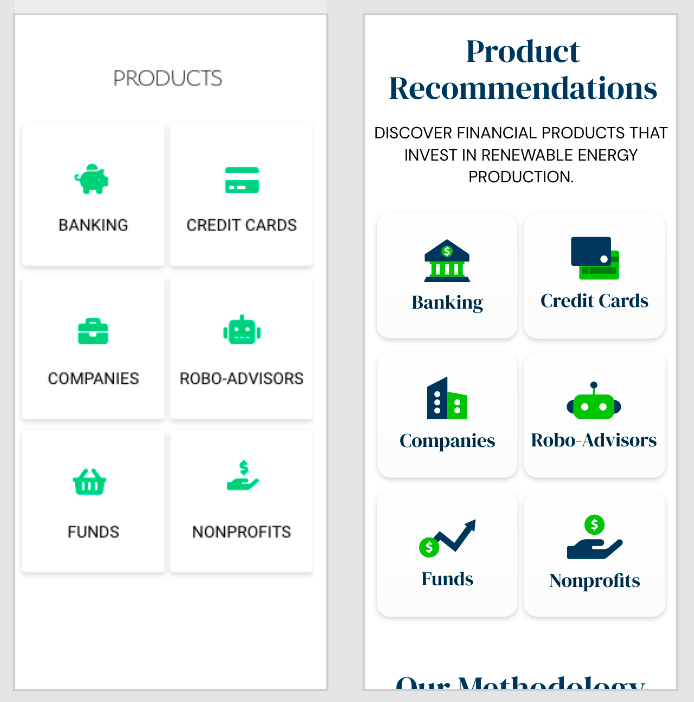 I updated the hierarchy on the getting started page to clearly break up the information.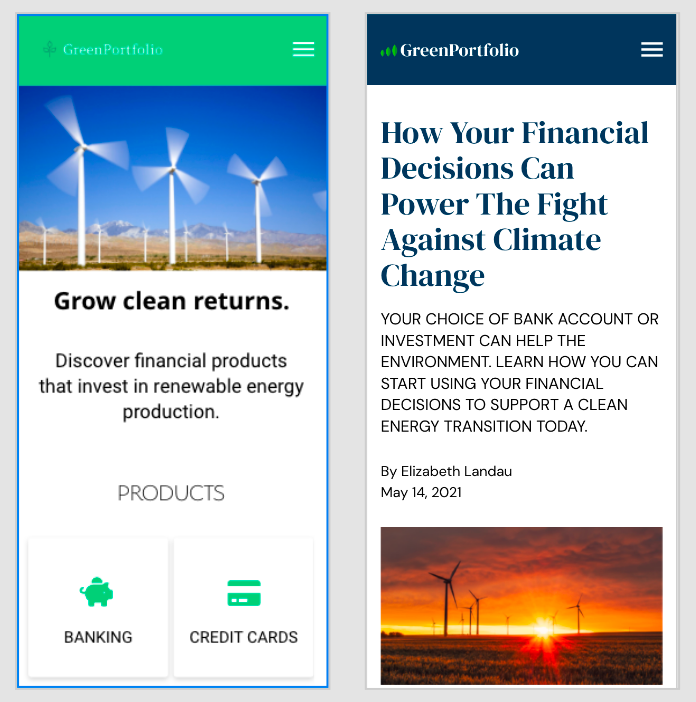 I updated the About page to include founder details to increase credibility.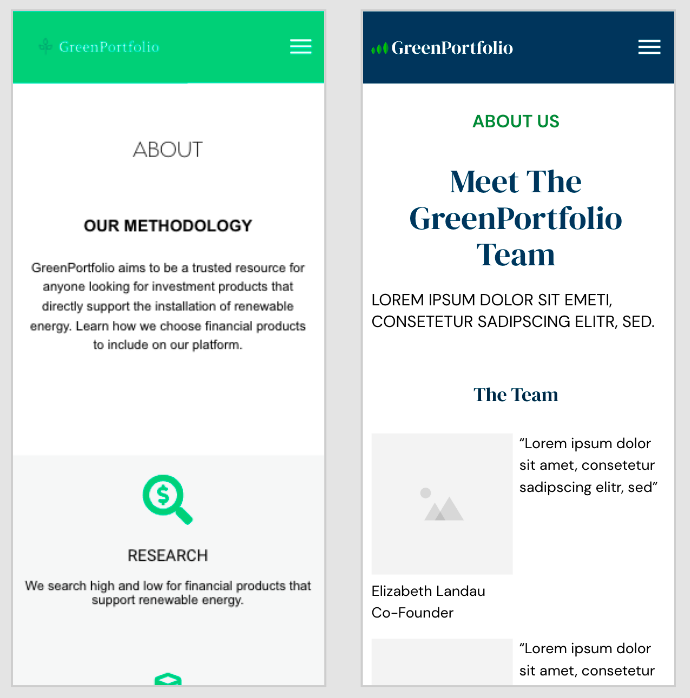 Interact with the GreenPortfolio prototype directly.
GreenPortfolio is working to be a reliable source of information for users looking to grow green returns by investing in products and services that fund renewable energy efforts. It was an important part of this project to ensure that users were confident that GreenPortfolio was a credible source. Users needed to quickly find information and feel guided through the site from their first interaction through repeat visits. Working within the limitations of the site, we were able to create a site that could support existing users, encourage exploration from new users, and set GreenPortfolio up to grow and develop in the coming months and years.
This was a unique project in that the founders would be completing many of the updates to their site on their own using a site builder tool. I had to keep that in mind with each recommendation, and also incorporated additional testing as part of the process for recommending changes.
The final prototype was delivered to the stakeholders along with an expanded UI Kit and supplemental graphics. Changes are being implemented in stages as the company prepares for next steps in their growth. They're looking forward to gathering feedback and incorporating additional functionality in the near future.